Now in its sixth year, Wege Prize is organized by Kendall College of Art and Design of Ferris State University's (KCAD's) Wege Center for Sustainable Design with the support of The Wege Foundation. Beginning in August of 2018, Wege Prize 2019 challenged participating teams to develop a product, service, business/nonprofit model, or other solution that could help spur a transition from our current linear economic model—in which we take, make, and dispose—to a circular economy, an economic model that's restorative and regenerative by design.
The five finalist teams in Wege Prize 2019 presented their solutions to a judging panel of leading practitioners and advocates of design thinking and sustainability at the 2019 Wege Prize Awards, held on May 31 at KCAD in Grand Rapids, Michigan, USA. Teams' solutions were evaluated on factors such as depth of research, technological and financial feasibility, alignment with circular economic principles, and potential for successful real-world implementation.
Winners:
1st Place – $15,000
Team name: REDENT
Priscilla Oluwakemi Badusi – Chemistry, Wellesley College
Aisha Muhammed Balogun – Computer Engineering, University of Wyoming
Mukhtar Hamzat – Electrical and Electronic Engineering, Ashesi University
Fatimah Owolabi – Entrepreneurship, African Leadership University
Ohagwu Collins Patrick – Agricultural Sciences, EARTH University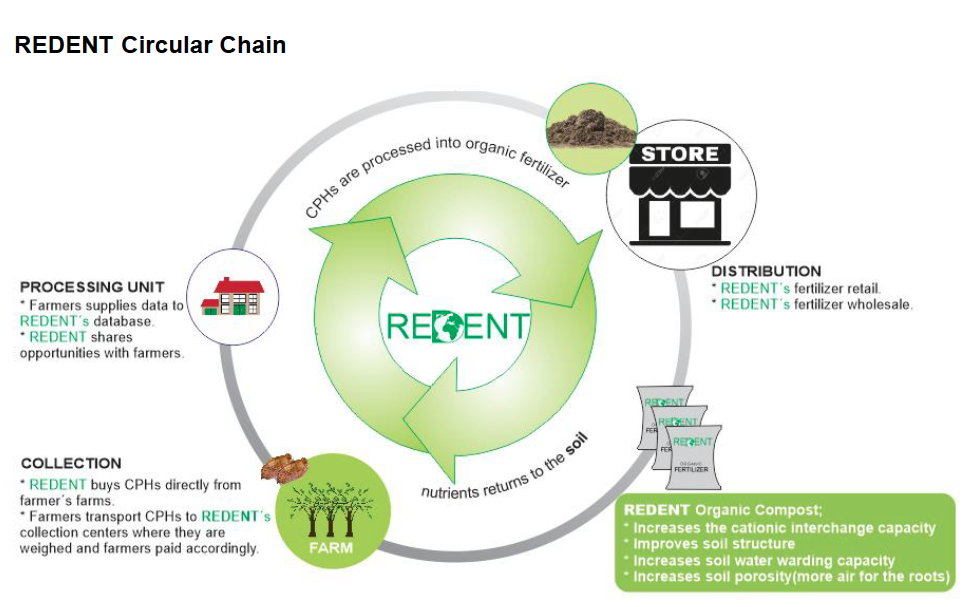 Solution: Redent proposed a system in which cocoa pod husks, a byproduct of cocoa bean production, can be upcycled into organic fertilizer. The system, designed to be waste-free and both economically and environmentally sustainable, also aims to inspire cocoa farmers toward sustainable farm practices while giving them access to additional income streams.
Currently, many cocoa bean farmers in the team's native Nigeria leave the cocoa pod husks in their fields to rot, which not only gives rise to pests and disease but fails to extract any value at all from the waste. At the same time, the low annual supply quantity and high cost of traditional fertilizer in the country poses significant cost and yield challenges for farmers. Redent's solution addresses both issues by transforming the crop's waste byproduct into powerful and affordable organic fertilizer.
"The judges were very impressed by how, in the midst of a large systemic issue such as waste, Redent honed in on a specific waste source and a specific solution for extracting maximum value from that waste; the elegance of that is very commendable," said judge Alysia Garmulewicz, an associate professor of high tech entrepreneurship at the University of Santiago in Chile and an associate fellow at Oxford University and the Institute for Science Innovation and Society.
Moving forward, the members of Redent plan to continue refining their product through further testing and engaging potential customers through demonstration plots where farmers can see the performance of the fertilizer firsthand.
---
2nd Place – $10,000
Team name: CONSIDERED FURNITURE
Jack Cottrell – Biology, University of Toronto
Joe Dunaske – Collaborative Design/Furniture Design, Kendall College of Art and Design of Ferris State University
Kate Hyman – Furniture Design, Kendall College of Art and Design of Ferris State University
Sydney Johnson – Architecture, Kendall College of Art and Design of Ferris State University
Lindsey Maner – Furniture Design, Kendall College of Art and Design of Ferris State University

Solution: Considered Furniture proposed a service model furniture company that shifts end-of-life responsibility of bulk furniture waste from the user to the manufacturer, responding to a need for effective waste return channels, capturing waste value, and directing that value towards new revenue streams.
The company targets cost and environmentally-conscious millennials with low-cost furniture that's designed for disassembly and re-use. Once furniture reaches the end of its life cycle, Considered Furniture's business model enables it to be returned to the company for remanufacturing into smaller piece of furniture or, ultimately, conversion into sawdust that can be combined with other organic materials for agricultural use.
"Considered Furniture developed a sophisticated solution that requires sophisticated thinking and problem solving," said judge Michael Werner, an environmental program manager and lead for safer chemistry at Google. "The team had to deal with raw materials, distribution, reverse logistics, waste in supply chains, and more; that's really complicated. We appreciated the lengths they went to in prototyping potential products, securing customer validation, and entering a market that deals with emotion and style in addition to other factors."
Moving forward, the team plans to continue developing furniture prototypes, refining its business model, promoting its company through social media channels, and securing relationships with material suppliers, storage and transportation companies, and furniture retailers.
---
3rd Place – $5,000
Team name: WET TECHNIK
Melissa Mukama Buzabo – Industrial and Fine Arts, Makerere University School of Art and Technology
Mark Musinguzi – Mechanical Engineering, Makerere University School of Engineering
Emmanuel Musumba – Mechanical Engineering, Makerere University School of Engineering
Shatsi Mwebesa – Quantity Surveying, Makerere University School of Built Environment
Dennis Ssekimpi – Civil Engineering, Makerere University School of Engineering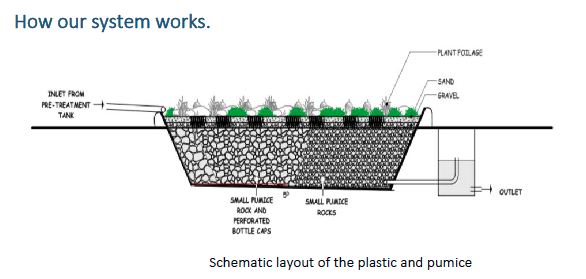 Solution: Wet Technik proposed to a solution to address Uganda's water shortage and wastewater treatment issues by designing a system that can upcycle grey water using a mix of constructed wetlands and filtration bio carriers made from repurposed plastic bottle caps. The system aims to reduce the costs of water usage while minimizing environmental pollution from hazardous wastewater.
The team conducted extensive research on-site at two boarding schools in Uganda, identifying key sources of grey water as well as potential uses for the grey water once treated, such as cleaning floors and flushing toilets, that currently require use of expensive fresh water from municipal supply lines. In addition to reducing overall water usage, the team's solution also mitigates the risk of disease from improper wastewater disposal.
"Wet Technik impressed the judges with the low startup costs of their idea and the solid field research that underpinned it," said judge Christopher Carter, an educator, a seasoned animator/story board artist, and a nationally-known and highly regarded sculptor of reclaimed and re-purposed found materials. "They clearly illustrated how this idea could work in the real world, and beyond that proved that they have what it takes to follow through."
Moving forward, the team will undertake a three-month internship that will enable them to deepen their research while continuing to develop a fully functional prototype of their filtration system.
---
The other two finalist teams—Nkunim and Norena Group—were each honored with a $1,000 Finalist Award.
Nkunim, comprised of students studying at different universities in Ghana, addressed Ghana's widespread plastic waste problem by designing a sanitation-focused mobile application that integrates with a circular economy-inspired plastic waste management system.
Norena Group, a team of students from Ivory Coast, Gabon, and Togo studying at universities in Costa Rica, Kenya, South Korea, and the United States, proposed a solution to upcycle food waste into multiple useful products for consumers, including animal feed, plant fertilizers, clothing and other goods.
"The leadership, passion, and insight displayed by Wege Prize 2019 teams have been both remarkable and inspiring," said KCAD President Leslie Bellavance. "By empowering both current and future generations of problem solvers to explore new ways of thinking, seeing, and working with one another, this competition proves that when we strive for collective intelligence, shared value, and social equity, we can solve any problem, on any scale, anywhere in the world."
Wege Prize teams are required to represent different institutions of higher education and different fields of study, giving them an intentionally broad perspective with which to address the kinds of layered and systemic "wicked" problems perpetuated by a linear economic model. Nine teams entered Wege Prize 2019, representing 14 countries, 21 academic institutions, and 40 unique academic disciplines while including both undergraduate and graduate students.
Wege Prize was conceived as a regional competition before rapidly expanding to a national, then international level, with the field of teams growing significantly in geographical diversity each year. In 2017, the competition was opened up to graduate students, having previously only been open to undergraduate students.
Thanks to the continuing financial support of The Wege Foundation, Wege Prize 2020 will again be open to any undergraduate or graduate student in the world and will be focused on developing a circular economy.
Team registration will open in August 2019, but interested faculty, students and professionals are encouraged to begin now by signing up for the Wege Prize mailing list, following Wege Prize on Facebook, and connecting on the Wege Prize Facebook Group. More details about Wege Prize 2020 will be revealed in the coming weeks on wegeprize.org.