The Wege Foundation would not have a legacy to stand on if it were not for the genius of Peter Martin Wege who founded the Metal Office Furniture Company in 1912. M.O. F., as it was affectionately called, became Steelcase Inc., on December 1, 1954.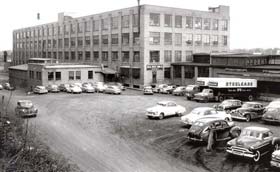 The photograph to the right was taken before December 1, 1954, which helps explain why Metal Office Furniture became Steelcase Inc. that day. Note the Metal Office Furniture sign on the building while the delivery truck is labeled "Steelcase" for the brand name of M.O.F.'s products. The customers were familiar with the Steelcase name, which was also easier to market, so it made sense to call both the company and the product line by the same name.
The Foundation was established in 1967 to help fund needed public causes in the community where Peter Melvin Wege was born and raised.
In 1998, with the help Peter Melvin Wege, Steelcase became a public company traded on the New York Stock Exchange. This move allowed The Wege Foundation to provide more major funding for needed local causes.
This family foundation continues to operate as an effective philanthropy that supports many non-profit organizations who are actively meeting the needs of the community.
Our Board's Mission:
Planting seeds that develop leaders in economicology, health, education, and arts, and enhance the lives of people in West Michigan and around the world.