By Jeffrey Kaczmarczyk | jkaczmarczyk@mlive.com 
GRAND RAPIDS, MI – Philanthropist Peter Wege has bestowed $1 million on the Grand Rapids Symphony.
Wege, who underwrote the orchestra's Grammy Award-nominated album, "Inventions & Alchemy," plus its accompanying DVD featuring harpist Deborah Henson-Conant, bequeathed the gift from his personal estate.
The former chairman of Steelcase, Inc., who died July 7, was a longtime supporter of arts and culture across West Michigan.
Related: Grand Rapids remembers Peter M. Wege: philanthropist, environmental activist, arts patron
Early in September, Grand Rapids Ballet unveiled a $1 million gift from Wege's estate. One week later St. Cecilia Music Center announced it also was the recipient of a similar $1 million gift. Both bequests were earmarked for the organization's respective endowment funds.
At Friday night's opening of its 2014-15 Pops Series in DeVos Performance Hall, the Grand Rapids Symphony unveiled the award for its endowment fund, which currently stands between $16 million and $17 million prior to Wege's gift.
Wege's philanthropy was focused on his love for people, said associate conductor John Varineau.
"He loved to take care of people, nurture their talents and provide exceptional cultural offerings to enhance this community's quality of life," Varineau said. "His love for his hometown and his dedication to local causes has been a big reason for the success of the Grand Rapids Symphony's 85 years."
Related: 'Hip harpist' Deborah Henson-Conant: Peter Wege made Grand Rapids Symphony's Grammy nomination possible
Wege's ties to the Grand Rapids Symphony date back decades. He was a longtime season subscriber and a major donor year after year to the orchestra's annual fund. When the organization moved to new offices in 2004, the former chairman of Steelcase, Inc., helped Steelcase provide all new office furniture.
Wege was the primary sponsor for the Grand Rapids Symphony's "Piano Pops 2" compact disc featuring pianist and Grand Rapids native Rich Ridenour.
The Wege Foundation underwrote the Grand Rapids Symphony's associate conductor chair, which lead Varineau to jokingly refer to Wege as "Dad," to which Wege would call Varineau "Sonny" in return.
Previously, Wege had contributed to the orchestra's Legacy of Excellence Campaign, a long-term effort to build a $40 million endowment for the Grand Rapids Symphony.
Last year, the philanthropists Rich and Helen DeVos pledged $20 million for the campaign, and another $12 million in future gifts had been pledged at the time of the announcement in May 2013.
Related: Grand Rapids Symphony's $40 million endowment campaign launched with $20 million DeVos pledge
The $1 million bequest was unexpected, according to Peter Perez, chairman of the symphony's board of directors.
"Peter Wege understood the vital importance of local arts organizations like our orchestra," Perez said. "He helped encourage and support the work of people and organizations across our community. His leadership has enhanced West Michigan's quality of life through his dedicated commitment over the course of many years."
Last season, the Grand Rapids Symphony's endowment fund provided the orchestra with a little over 8 percent of its total revenue for the year.
Specific uses for the gift will be decided at a later date.
"Peter Wege asked us to assess how the gift can be best used," said symphony president Peter Kjome.
Education and outreach were among the causes Wege valued in his lifetime.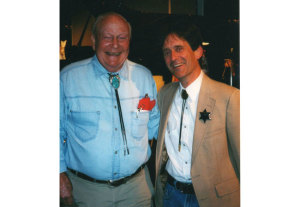 If you look at all of the programs meant to broaden the base of the Grand Rapids Symphony, such as the annual "Symphony with Soul" concert or educational concerts, you'll find the Wege Foundation logo, Varineau said.
"Peter was passionate about making sure the arts are truly for everyone," Varineau said.