In 2009 Blandford Nature Center had to reinvent itself from a tax-payer funded organization into an independent non-profit with Annoesjka Steinman as the first president. Annoesjka proved up to the new challenge by successfully carrying on the Center's long-time mission as an educational wildlife mecca, but on a whole new financial basis.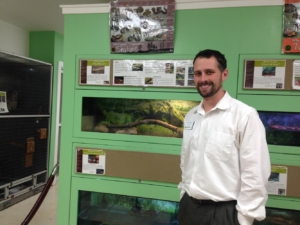 Five years later, Annoesjka has handed off the Blandford presidency to Jason Meyer whom she mentored in his previous job as the Executive Director of the Fenner Conservancy in Lansing. Jason is already on the job with his three children in school next door at Frost Elementary.
The new Blandford president–an Eagle Scout among other impressive resume details–gives his friend and predecessor Annoesjka full credit for her leadership in converting Grand Rapids' beloved Nature Center from city-school support into a non-profit. "We have new challenges," Jason Meyer says, "but Annoesjka has paved the way."
When Jason Meyer graduated from Purdue in 1999, he won the trifecta of top awards from the University's Department of Forestry and Natural Resources. Meyer was named the Department's Outstanding Senior, the Outstanding Wildlife senior, and given the Stanley Coulter Leadership Award.
Meyer went on to earn his Masters in Purdue's School of Forestry & Natural Resources. And this year the Association of Nature Center Administrators, a national organization, named Jason Meyer the ANCA's Outstanding New Leader in 2014.
In the fifteen years between those prestigious honors, at Purdue Meyer taught migrant farm workers science and social studies to prepare for their GEDs; he worked with land owners and foresters in California to prevent wildfires. And as the program manager for the San Bernardino National Forest's Children's Forest, Meyer ran a youth program on forest management, restoration, and trail maintenance.
Blandford's new CEO has also published articles in national magazines, including the Journal of Environmental Education. Over his four years in Lansing at the Fenner Conservancy from 2010 to 2014, Meyer increased private funding to the nature center by 539%.
This spring when Annoesjka Steinman needed a change after five years of long commutes from her Muskegon home to Blandford Nature Center, she called her friend and protégé in Lansing. The timing was right for Jason Meyer too, and the rest is history.