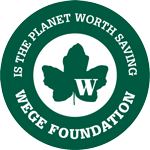 September 3, 2015; Grand Rapids, MI – The Wege Foundation announced today the retirement of Ellen Satterlee as President and CEO, effective October 30, 2015. Satterlee will continue to serve as a member of the Foundation's Board of Trustees.
"Ellen has provided stellar service to the Wege Foundation since 1988, including as CEO in leading the generational succession from our founder, Peter M. Wege," said Peter Wege II, Chair of the Board of Trustees. "We wish her well in her retirement and are grateful we will continue to benefit from her knowledge and wisdom as a Foundation Trustee."
A graduate of Aquinas College, Ellen Satterlee served ten years on the Aquinas College Board of Trustees. "Ellen's dedication to service embodies all that Aquinas College stands for," said Aquinas College President, Juan Olivarez, Ph.D. "Aquinas was proud to recognize Ellen's leadership with an Honorary Doctor of Public Policy degree in 2013."
Satterlee also served on several other boards and committees, including on the Grand Rapid Symphony Board and as a member of the Grand Rapids Economic Club. "Ellen is a close colleague and has been a key partner in many important philanthropic projects," said Diana Sieger, President of Grand Rapids Community Foundation.
"Ellen's work with Peter M. Wege over so many years has helped make Grand Rapids a global leader in sustainability – or, in 'Economicology,' to use a word coined by Peter Wege," said Grand Rapids Mayor George Heartwell.
"Working for Peter Wege, The Wege Foundation and the Wege family has been an amazing journey," said Satterlee. "To watch the Foundation evolve to fulfill Peter's vision for a better world has been a blessing and an honor."
The Wege Foundation was launched in 1967 and for nearly 50 years has supported worthy organizations working in five thematic areas, or "pillars:" Education, Environment, Arts & Culture, Health Care, and Human Services. Focused on the Grand Rapids metropolitan area, the
Foundation embodies Peter M. Wege's life-long philosophy: "Do all the good you can, in all the ways you can, for all the people you can, for as long as you can."
In Photo: Mark Van Putten, Ellen Satterlee, and Congressman Vern Ehlers are shown in Washington D.C. in 2008 when the late Peter M. Wege and The Wege Foundation launched Healing Our Waters to save the Great Lakes.  Congressman Ehlers sponsored the bill that led to $20 billion in federal funding to preserve and protect the Lakes.  Mark Van Putten, a longtime consultant to The Foundation, will succeed Ellen Satterlee as the Foundation's CEO October 31 when she retires after 21 years.