Working into the wee hours Friday night, December 9, 2016, the U.S. Congress authorized $1.5 billion to pay for Great Lakes restoration over the next five year. Included in that legislation is $170 million badly needed to help Flint clean up its lead-contaminated water. The Water Infrastructure Improvements will upgrade water facilities for states facing public health threats—with the nationally publicized crisis in Flint topping the list.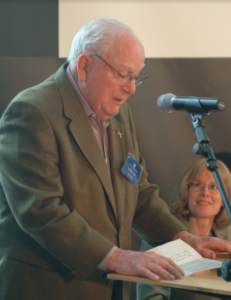 But what wasn't in the press releases was that this historic $1.5 billion environmental leap forward for the country began at Steelcase, Inc., in Grand Rapids in May of 2004. A visionary who believed any thing was possible, the late Steelcase heir Peter M. Wege had told his staff that spring, "We're going to save the Great Lakes." And they knew him well enough to think he might just do it.
Wege then invited over 70 nationally recognized environmental leaders to a three-day working conference titled Healing Our Waters. In his invitation to the conference, sponsored by The Wege, Frey, Beldon, and Mott Foundations, Wege wrote, "Our objective is to collaboratively reach consensus on a policy statement for restoring the Great Lakes ecosystem. We will focus not on the problems, but the solutions."
Wege asked the attending experts to "develop a powerful statement on the policy reforms needed to begin healing the Great Lakes." And they did! Over three days in May 2004 packed with long sessions and lively debate, the environmental scientists collaboratively agreed on the greatest threats to the Great Lakes. Included in their final report, the HOW experts outlined a program to deal with deteriorating water quality in the Great Lakes—the same solutions just approved by Congress for Flint.
Wege called the HOW experts' final statement the "Magna Carta of the Great Lakes." That "Magna Carta" coincided with an executive order by then-President George W. Bush that brought together over 1,500 Great Lakes citizens to craft the Great Lakes Regional Collaboration Strategy to Restore and Protect the Great Lakes calling for $20 billion in federal funding. The citizens' recommendations mirrored the conclusions from the HOW conference in Grand Rapids. Indeed, the $1.5 billion Great Lakes funding just passed is a direct outcome of the Steelcase HOW conference.
Another direct outcome of the Steelcase conference has occurred over the past seven years with Congress having invested over $2.2 billion to restore Peter's Great Lakes. That two-plus billion has funded some 2,900 local projects around the five Lakes. One example has been the cleanup of three contaminated sites. In the twenty years before the GLRI was passed, only one toxic site had been decontaminated.
For Peter Wege, who died in 2014, that 2004 Great Lakes conference was not just one more good cause. Rather he described it as "the most important single project of my life as an environmental activist since starting The Wege Foundation in 1967."
He did say, "We're going to save the Great Lakes!"