Elissa Hillary is thrilled that 900 area businesses are part of Local First, but that's just the start. The president of Local First is out to recruit every business in eight counties of West Michigan to join the cause of promoting for-profits enterprises that are a "force of good" socially and environmentally.
But now there's more! Helped by a $200,000 grant from The Wege Foundation, Local First is launching its Good For Grand Rapids campaign aimed not just at more businesses, but also at West Michigan's consumers. Elissa and her team want to expand LF's mission promoting good social and environmental stewardship into every single home.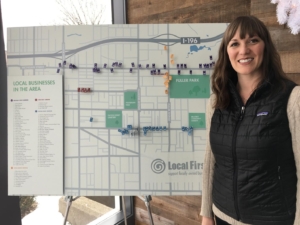 In short, the dream means every resident in eight counties would become a Local First Shopper and look for that logo on the door when they enter a business, restaurant, office—any commercial operation. The 900 businesses take pride in that gold Local First sticker because it means they are supporting a business owned by a friend or neighbor. Even better if they have a sticker that says "Good for Grand Rapids!" It means they taken the Quick Impact Assessment evaluating what they're doing as a "force for good." The QIA also measures how they compare to other businesses.
Does this business pay a living wage? Do they offer employees the time to volunteer for good causes? Do they encourage sustainable transportation like bikes and buses? Do they recycle? Do they pay health insurance? Elissa encourages all area businesses to spend an hour taking this free assessment on line for their own information—and perhaps as a first move toward joining Local First.
Within the Local First business community are Benefit corporations that excelled on the Quick Impact Assessment. Brewery Vivant, for instance is the first LEED-certified brewery in the United States. They buy all the ingredients they can locally, are certified as Bike Friendly with racks and an air-pumping station, and support organizations that shelter homeless people.
Grateful to The Wege Foundation for its recent grant, Elissa Hillary quoted Peter Wege, the late founder, in explaining why Local First and Good for Grand Rapids are such an ideal fit. "Peter used the word economicology to support practices that are good for the ecology and for the economy." By being a "force for good," the Local First businesses are also enhancing their profits. Consumers want to spend their money with companies that promote the public good.
Being a Local First Shopper is also a source of pride!