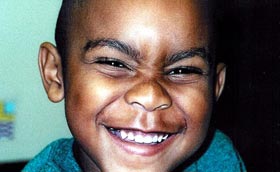 THE FIFTH PILLAR: COMMUNITY SERVICE
The Wege Foundation's Fifth Pillar is Community Service. Peter Wege's name is well known in the inner city of Grand Rapids as a man who cares about all the residents of his home town, especially those in greatest need. Two of Grand Rapids' declining areas are newly thriving as a result of The Wege Foundation's gifts to rehabilitate several buildings in those neighborhoods.
Baxter Community Center, pictured above, typifies The Wege Foundation's Human Services outreach. An inner-city non-profit created to make life better for neighborhood families, Baxter Community Center grew out of the race riots of the late 1960s. That's when the mostly white members of the Eastern Avenue Christian Reformed Church in the Baxter neighborhood decided they had to do something to heal the racial tension.
What they did in 1967 was convert the former Baxter Christian School—around the corner from the church—into a safe and supportive haven for their neighbors. From the beginning, this Christian-based program welcomed people of every faith, color, and age with the same caring arms. (See accompanying photos.)
The Baxter Community Center began with church members offering recreation and tutoring. But the founders quickly realized the families coming to the Center needed more programs and support. They gradually added preschool classes, day care for children, adult literacy, and counseling.
More recently, the Baxter Center's staff and board has added services that meet their families' "human needs" in the most practical ways. A medical clinic. A dental clinic. Child care. Mental-health counseling. A market place with free clothing food and household goods. Tax preparation. Budget counseling.
By the early years of the 21st Century, it was clear that taking care of all these human needs called for more room than the old Baxter Christian School had. Baxter turned to the greater community for help. They launched a $2.4 million campaign to remodel the existing school and double Baxter Community Center's space with a new addition.
The Wege Foundation's name came up early as Peter was already beloved at Baxter for what he'd done to restore and renew their neighboring business district on Wealthy Street. The Baxter leaders knew about Peter's strong loyalty to his native city—how he'd helped rejuvenate the inner-city's Heartside neighborhood. They knew from his generosity to the core city that he cared deeply about underprivileged children and their families.
As always with Peter Wege, it did not hurt that his good friend Dick Becker from Steelcase was a member of the Baxter capital campaign. Not did it hurt when Dick brought Peter and Ellen Satterlee to visit Baxter Center so they could see for themselves the good work going on there.
However, in 2002, at the time Baxter approached The Wege Foundation, Peter had just added a new requirement to all capital gifts. The Foundation would not donate to any new construction unless it was certified as LEED (Leadership in Energy and Environmental Design) by the U.S. Green Building Council.
Impressed as both Peter and Ellen were by what Baxter was doing, Peter stood firm on his green stipulation. On the spot, as he often does with a project he likes, Wege made Baxter Center's Executive Director Melanie Beelen an offer. He would donate $250,000 for the new addition if it was constructed in accordance with the LEED program.
Melanie and the board members were understandably grateful for Peter's generous offer; they wanted to do right by the environment as well. But they also knew the higher costs for building green weren't in their budget. That's when Melanie and her board got resourceful. Using Wege's offer as part of Baxter's new donor base for leverage, the Center applied for a Kresge Challenge grant. It worked, and Baxter won another $175,000 from the Kresge Foundation.
But that was just the start of what The Wege Foundation's gift accomplished. His insistence on LEED building turned out to be far more valuable than he or anyone else could have dreamed of. Melanie found out that the Kresge Foundation had another kind of grant that promotes green building. In order to encourage more environmental construction, the Kresge Foundation offers an unrestricted "bonus grant" for non-profits like Baxter if they built green.
With Baxter already committed to LEED architecture because of Wege's gift, the Center applied for and won a second Kresge grant of $150,000. This unrestricted bonus grant will be awarded in 2007 when the new addition passes the U.S. Green Building Council's inspection. In gratitude for Wege's visionary nudge into LEED building, the Baxter Center presented Peter Wege with the St. Francis Award in 2004. This honor is given to people who model the attitudes and character listed in the Prayer of St. Francis of Assisi.
By the winter of 2005-06, Melanie Beelen and her staff were already earning a return on their green investment. When heat and electricity costs skyrocketed to historic highs that winter, the Baxter Center's energy-efficient new addition helped them duck the higher utility bills, thanks to Peter Wege's pushing them into LEED construction.
Melanie Beelen sees The Wege Foundation's gift to the Baxter Community Center in far larger terms than financial. "The strongest gift Peter has brought us and taught us is that life comes full circle. It's our belief that not one detail in life's circumstances gets wasted. Peter is not wasting his later years but using them for the greater good."
Baxter's programs "are going full circle—from babies to seniors." Lives are being restored at Baxter, their 2005 annual report says. "Young people are discovering their purpose. Children and families are finding a safe place to grow. Hope is being inspired."
Education. Environment. The Arts. Health Care. All these other "areas of interest" for The Wege Foundation are honored at Baxter as well. But the number-one Pillar served in the building pictured above is that of Human Services