In 2011 Grand Rapids Community faced a serious problem. While 15% of all students graduated after two years, only 5% of African- American males did. Determined to do something about this inequity, GRCC Counselor Dr. Andre Fields and administrator Eric Williams started a program called Alpha Beta Omega as part of the college's Bob and Aleicia Woodrick Center.
ABO invites African-American male students to sign up for an academic brotherhood that provides each of them a mentor, tutoring, school counseling, and the mutual support of their fellow members. ABO students also have the opportunity to work confidentially with a counselor on personal issues. "And it's free!" Dr. Fields adds.
ABO's core values speak to the program's goals. Fellowship. Scholarship. Ownership. Leadership. Citizenship. Inc
Of the first sixteen students who joined ABO in the fall of 2012, five of them graduated from GRCC and a third will finish this year. Two of the five went on to four-year schools and one graduated from the University of Michigan last winter and another founding ABO student will graduate from Ferris State University this fall.
Over the five years GRCC men have joined ABO, twenty-six have graduated. Four have gone on to earn university degrees and twenty seven have transferred to four-year schools including the University of Michigan, Davenport, GVSU, and Ferris State University, among others.
Last fall the ABO enrollment went into triple figures for the first time. One hundred students enrolled in ABO for the 2016-17 academic year. Kathryn Mullins, Executive Director of the GRCC Foundation, says they wanted to grow ABO slowly but are now ready to expand. "The Wege Foundation's grant will allow us to sign up 350 students over the next five years."
Dr. Mullins is looking for new students through referrals from area high schools, letters sent to prospective members, and handouts of ABO literature at school events. She wants to offer more young men what the ABO motto promises. Knowledge is power. We are power. Our fate is blessed. Our destiny is blessed.
*Pictured above: Chris Wege, Mary Nelson, Leslie Young, Sara O'Connor, Christopher Carter, and
Kathryn K. Mullins, Ed.D. Vice President for College Advancement & Executive Director of the GRCC Foundation, meeting with faculty and students in GRCC's ABO program.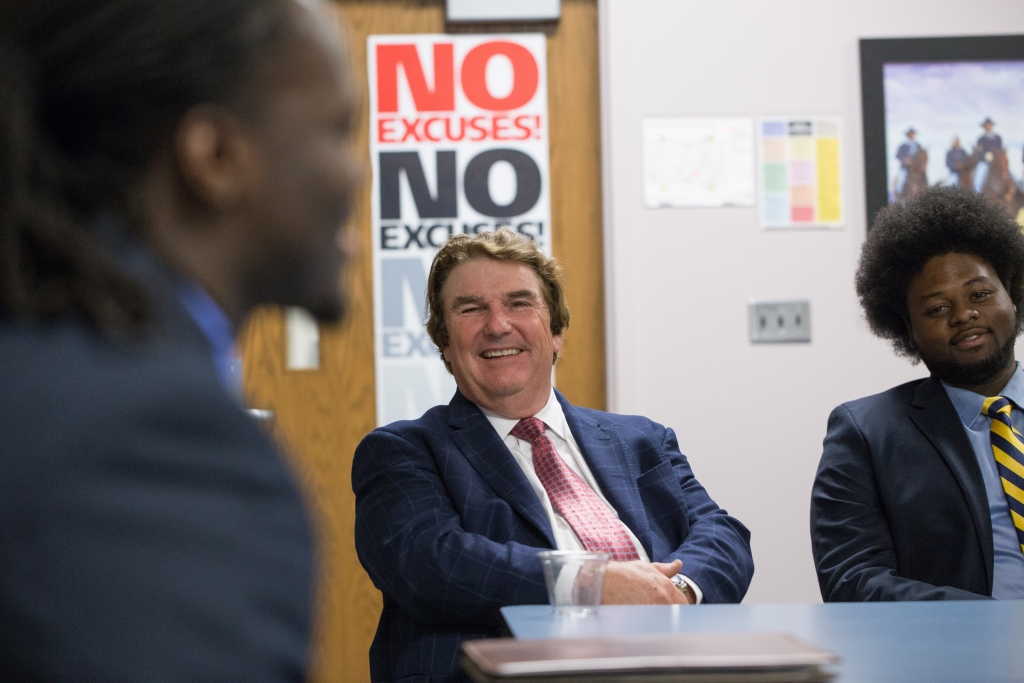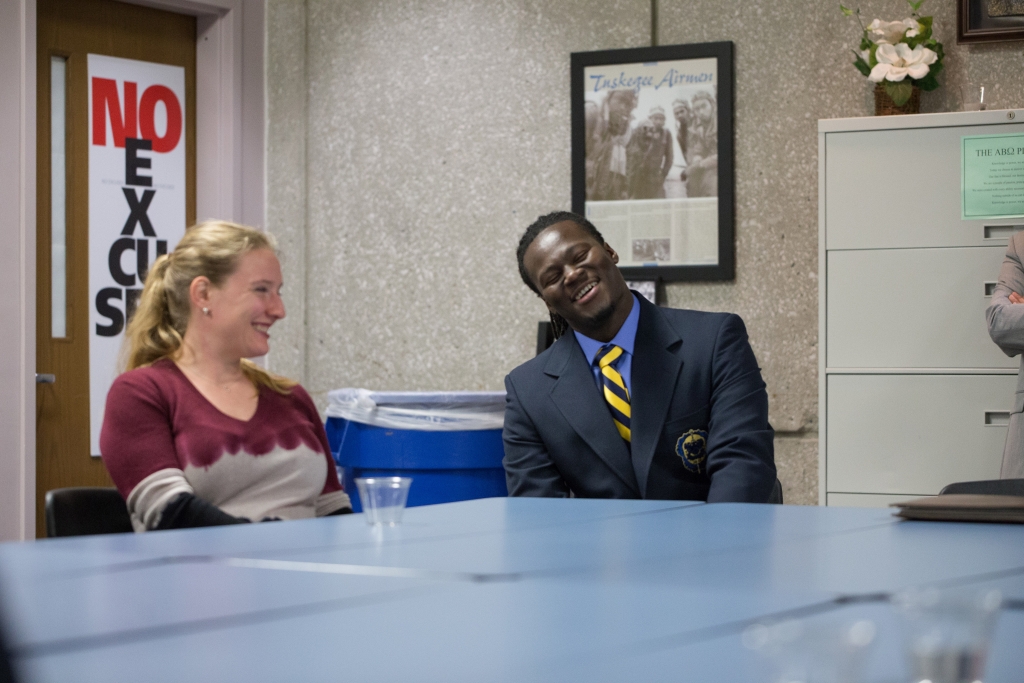 Chris Wege, Mary Nelson, Sara O'Connor, and Christopher Carter are all members of the Wege family and Leslie Young is the Wege Foundation's Program Assistant Director.