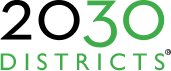 Private, public partnership working toward final designation from Architecture 2030 by end of year
Grand Rapids Mayor George Heartwell today announced Grand Rapids has been named an Emerging 2030 District by Architecture 2030, an effort designed to reduce energy use in the downtown, and putting it on track to become an Established 2030 District this year. The energy district was among the goals unveiled in the mayor's 2015 State of the City address.
"Cities continue to play an important role in addressing the root causes of climate change, and here in Grand Rapids we do that in partnership with our private sector partners" said Heartwell. "To help reach our goal of becoming a more resilient community we have taken up the Green District 2030 Challenge and are meeting it head on."
Joining Mayor Heartwell for the announcement was Architecture 2030 Founder Ed Mazria and Dan Scripps, president of the Institute for Energy Innovation that is collaborating with the city on the energy district. Other partners involved in facilitating the development of the Grand Rapids 2030 District include the U.S. Green Building Council – West Michigan Chapter, and the West Michigan Sustainable Business Forum.
Initiated in Seattle, 2030 Districts are unique private/public partnerships that bring together property owners and managers with local governments, businesses, and community stakeholders through a common goal of reducing energy use, water use, and transportation emissions in urban settings. 2030 District participants work to meet the energy, water and vehicle emissions reduction targets called for by Architecture 2030 in its '2030 Challenge for Planning.' To date, nine North American cities have established 2030 Districts, including Seattle, Cleveland, Pittsburgh, San Francisco, Denver, Los Angeles, Dallas, Toronto, and Stamford (Connecticut.)
"With cities accounting for 75 percent of global greenhouse gas emissions, it's critical that cities are also in the forefront of developing solutions," Mazria said. "Led by the private sector and building on strong local sustainability leadership, it's exciting to welcome Grand Rapids to the 2030 District Network as an Emerging 2030 District."
Putting in place a Grand Rapids Emerging 2030 District Exploratory Committee was critical to the process. It includes a number of participating developers, building owners and operators, and other stakeholders, among them:
616 Development
Bazzani Building Company
Catalyst Partners
City of Grand Rapids
Consumers Energy
Grand Rapids Art Museum
Grand Rapids Public Schools
Grand Valley State University
Kent County Department of Public Works
Integrated Architecture
Midwest Energy Group
Progressive AE
Rockford Construction
SMG, which manages DeVos Place and Van Andel Arena
Spectrum Health
Sustainable Research Group
Van Andel Institute
Veolia Energy
"Today's announcement shows the progress being made by our private sector partners in establishing a 2030 District in downtown Grand Rapids," said Scripps. "Our city is known for its private sector leadership in sustainability efforts, and the work to create a 2030 District builds on that leadership.
"Creating a 2030 District in Grand Rapids will help maintain our community's position among the leaders across the country, as well as helping building owners and operators to reduce energy and water costs and create more comfortable, more profitable buildings," Scripps added.
An Established 2030 District designation brings with it several advantages over and above adding to the city's overall goal of becoming a sustainable city. These include shared expertise, bulk purchasing arrangements, technical assistance, and opportunities to save money through reductions in energy and water use.
Participating building owners and operators in 2030 Districts agree to adopt the following targets:
For existing buildings, a 50 percent reduction in energy use across the district by 2030 compared to a 2003 national benchmark of similar buildings, as well as 50 percent reductions in water use and emissions from transportation.
For new buildings and major renovations, an immediate reduction in building energy use by 50 percent compared to the 2003 national benchmark, with additional targets getting to net-zero energy use by 2030. New buildings also seek to immediately reduce their water use and transportation emissions by 50 percent when compared to the current district average.
Now that Grand Rapids has achieved the Emerging District designation, the city will be focused on the final phase of becoming an Established 2030 District, which requires the following:
A private sector led Advisory or Leadership Board/Committee made up of 40 percent property owners, managers, and developers; 20 percent professional stakeholders; and 20 percent community stakeholders.
Signed commitments/pledge letters from at least five building owners/managers.
A mission aligned with 2030 District goals.
Set targets for energy, water and vehicle emissions reductions that meet or exceed the 2030 Challenge for planning targets.
Generally Accepted Accounting Principles and a financial management system.
Shared key information with Architecture 2030 staff.
Signed the 2030 District Charter with Architecture 2030.
Additional information on 2030 Districts and the Architecture 2030 Challenge for Planning is available 2030districts.org and Architecture 2030
Contact: Liz Boyd
Telephone: 517.881.6713
# # #
The Institute for Energy Innovation (IEI) is a Michigan-based non-profit corporation. IEI's mission is to promote greater public understanding of advanced energy and its economic potential for Michigan, and to inform the public and policy discussion on Michigan's energy challenges and opportunities. IEI's activities focus on three primary activities: policy development and research; community energy initiatives; and industry engagement.
The West Michigan Sustainable Business Forum is a regional network of businesses, institutions, and individuals dedicated to promoting business practices that demonstrate environmental stewardship, economic vitality, and social responsibility. Founded in 1994, it is today the leading membership organization for practitioners of beyond‐compliance sustainability practices in the state and an active facilitator of participatory community sustainability initiatives, promoting positive change and operational improvements through education and collaboration.
The U.S. Green Building Council is a committee-based, member-driven, consensus-focused non-profit founded in 1993 that currently represents over 17,000 companies and organizations. The USGBC West Michigan Chapter, organized in 2004, is one of 70 chapters that operate as licensed separate non-profits across the United States. The U.S. Green Building Council mission is it to transform the way buildings and communities are designed, built and operated, enabling an environmentally and socially responsible, healthy, and prosperous environment that improves the quality of life in one generation. It accomplishes that mission with a dedication to expanding green building practices and education with its LEED® (Leadership in Energy and Environmental Design) Green Building Rating System™ and other educational resources.