After years of dreaming, discussing, and designing, a farmer's market for the inner city is now happening.  Seven abandoned warehouses on a city block bordered by Ionia, Logan, Wealthy, and 131 have been replaced by a soaring structure of recycled wood and concrete. From 131, the Market will be recognized by the cathedral-like glass crown covering its greenhouse. While it's been known as the "urban market," it's now officially the Downtown Market.
Local farmers will start selling produce at the seasonal outdoor market May 4 and will be there Tuesdays and Saturdays from 8 a.m. until 1 p.m. and Thursdays 4 p.m. to 7 p.m.  All 90 open-air stalls have been leased, according to Mimi Fritz, the Downtown Market's CEO. By supporting local farmers, the Market is also fighting the national obesity epidemic by promoting healthy food choices.
The $30 million Downtown Market, funded by donated private dollars and public tax money, is anchored by the three-story indoor Market.  The new construction will add one more record to Grand Rapids' many green building firsts by earning a gold LEED designation, the only market in the nation to do so.
The 138,000 square-foot indoors market opens later this summer housing a brew-pub, restaurant, and banquet room. Students from local culinary-education programs are already signed up to use the commercial kitchen for cooking classes this fall. The smaller children's kitchen features appliances that can be lowered to the height of younger chefs.
While more businesses have signed up for inside space, the only two announced are local entrepreneurs selling fair-trade coffee and ice cream.  Fritz is looking to attract other local businesses selling consumables like cheese, baked goods, meat, wine, fish, and chocolate as drawing cards for area families and out-of-town visitors.
The New York Times recently highlighted the Grand Rapids Downtown Market at http://www.nytimes.com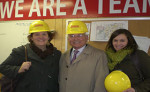 Jessica Wege McLear, Dave Frey, and Caitlin Wege. Truly "Are A Team" that helped make the Downtown Market a reality. The Wege Foundation and The Frey Foundation were major contributors in the private donations that combined with public funding to build the $30 million indoor/outdoor farm market on Ionia and Wealthy just east of 131.
Joining the several nearby steeples in downtown Grand Rapids is the cathedral-like roof of the new Downtown Market. The glass allows sunlight to feed the greenhouse plants in the nursery underneath. The empty building in the background typifies the 7 empty warehouses that were demolished to clear the land for the city's first Downtown Market. 
 The new Downtown Market with its three pyramids of glass as seen from the highway.