Architect and founder of Architecture 2030 to talk about developing architecture districts that serve as a business model for urban sustainability
The Wege Foundation will host the 19th Wege Speaker Series on Thursday,  April 23 at 4pm at the Aquinas College Performing Arts Center. It is the first speaker series event since the passing of Wege Foundation founder Peter Wege in 2014.
At this year's event, the key speaker is Edward Mazria, founder and head of Architecture 2030, an organization designed to rapidly transform the built environment from the major contributor of greenhouse gas emissions to a central part of the solution to the climate and energy crises. His talk is titled, "The Road to Zero."
"Peter Wege's decades-long leadership in promoting green buildings makes Mr. Mazria the perfect choice to deliver the 2015 Wege Lecture and to inspire Grand Rapids to continue Mr. Wege's Economicology legacy," said Ellen Satterlee, CEO of the Wege Foundation. Mazria will powerfully illustrate a core principle of Economicology, that creating a healthy environment generates a prosperous economy.
Mazria is an internationally recognized architect, author, researcher, and educator. Over the past decade, his seminal research of the built environment has redefined the role of architecture, planning, design and building in reshaping our world to create access to no cost/low cost renewable energy.
Of particular interest in Grand Rapids are 2030 Districts, an initiative of Architecture 2030. These unique private/public partnerships bring property owners and managers together with local governments, businesses and community stakeholders to provide a business model for urban sustainability. Established in Seattle, 2030 districts in Cleveland, Pittsburgh, Los Angeles, Denver, Stamford, San Francisco, and Dallas comprise over 180 million square feet of real estate. New 2030 Districts are currently forming in cities across the U.S. and Canada.
Joining Mazria will be Vincent Martinez, Director of Research and Operations, Architecture 2030.
Partners for the 19th Wege Speaker Series event include:
Institute for Energy Innovation
West Michigan Sustainable Business Forum
US Green Building Council West Michigan Chapter
AIA Grand Rapids
West Michigan Environmental Action Council
West Michigan Environmental Leadership Network
City of Grand Rapids' Office of Energy and Sustainability
GRPS City High-Middle School
GRPS Center for Economicology
The Aquinas College Performing Arts Center is located at 1703 Robinson Road S.E. in Grand Rapids. The public is invited and the event is free. Registration is required at www.aquinas.edu/wegespeaker
---
Edward Mazria BIO: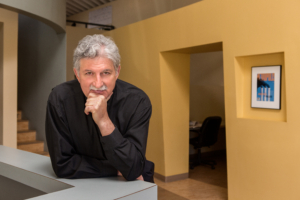 Edward Mazria, FAIA, Hon. FRAIC
Founder and CEO, Architecture 2030
Edward Mazria is an internationally recognized architect, author, researcher, and educator. Over the past decade, his seminal research into the sustainability, resilience, energy consumption, and greenhouse gas emissions of the built environment has redefined the role of architecture, planning, design, and building, in reshaping our world. He is the founder of Architecture 2030, a think tank developing real-world solutions for 21st century problems.
Mazria issued the 2030 Challenge, and recently introduced the 2030 Palette, a revolutionary new platform that puts the principles behind low-carbon/zero carbon and resilient built environments at the fingertips of architects, planners, and designers worldwide. This past year he issued the Roadmap to Zero Emissions at the Organization of Economic Cooperation and Development (OECD) and UN Framework Convention on Climate Change (UNFCCC) calling zero emissions in the built environment by 2050; and the 2050 Imperative that has been adopted by professional organizations representing over 1.3 million architects in 124 countries worldwide. And recently, he developed The Urban Climate Initiative, a framework of incremental actions that governments can put in place to ensure carbon neutral built environments by the year 2050.
Mr. Mazria's awards include AIA Design Awards, American Planning Association Award, Department of Energy Awards, American Solar Energy Society Pioneer Award, Equinox Award, National Conservation Achievement Award, Mumford Award from Architects/Designers/Planners for Social Responsibility, inaugural Hanley Award, Distinguished Career Award from Pratt Institute, Zia Award from the University of New Mexico, Game Changers Award from Metropolis Magazine, 2011 Purpose Prize, and the 2015 Kemper Award from the American Institute of Architects. He is a senior fellow of the Design Futures Council, Honorary Fellow of the RAIC, and received an Honorary Doctor of Architecture degree from Illinois Institute of Technology.